Surgical Preceptorships
Alinsod Institute for Aesthetic Vaginal Surgery is proud to announce that surgical preceptorships for advanced reconstructive pelvic surgery and intensive one-on-one training in advanced aesthetic vaginal surgery, such as labiaplasty/vaginoplasty/hymenoplasty, are now available.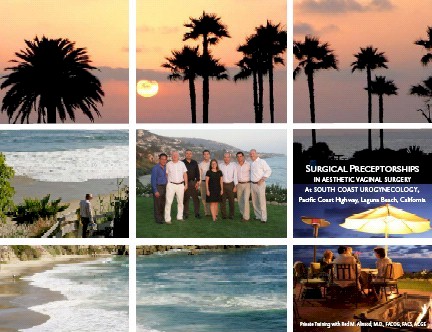 Physician Brochure
Private Preceptorships
Dr. Alinsod also provides intensive one-on-one training in advanced aesthetic vaginal surgery. Aesthetic vaginal surgery is perhaps the fastest growing field in cosmetic surgery with very few training programs available. Dr. Alinsod's superior program will teach the gynecologist, urogynecologist, or plastic surgeon techniques not taught in any residency program. These procedures include labiaplasty, clitoral hood reduction, vaginoplasty, and hymenoplasty. The training is second to none when combined with a preceptorship in advanced reconstructive pelvic surgery. There are no groups to train, no seminar format, and no lasers to pay for. It is strictly a two to three day program filled with valuable information on how to transform your practice into a cash business with less reliance on insurance. Covered topics include internet marketing along with print and TV marketing. Tools and materials to build a unique website are offered. Search Engine Optimization (SEO) specialists are introduced. Medical malpractice and insurance topics will be discussed. We even offer to train your front office staff by teleconference. Only one physician is trained per month and the rising demand for this course will necessitate advanced planning. For more information please call Dr. Alinsod either by email or by phone. He welcomes your call.
All surgeons trained by Dr. Alinsod are welcome to come in for further surgical training and review. Dr. Alinsod will welcome staff members of the surgeon for training to ensure proper set-up and care of aesthetic vaginal surgery patients.
2019 Course Schedule
Download Registration Form
These are the dates for Aesthetic Vulvovaginal Surgery Preceptorships. Please call us for details on Private and Group Preceptorships. Radiofrequency Enhanced O-Shot (REO) Training dates are the first day of Group sessions.
April 15-18
May 20
June 10-13
July 29 – Aug 1
Aug 26
Oct 28
Dec 9-12
AVS
ThermiO
AVS
AVS
ThermiO
ThermiO
AVS
To be added to our email updates, contact jennifer@urogyn.org.
---
Red M. Alinsod, M.D., FACOG, FACS, ACGE
South Coast Urogynecology, Inc.
Alinsod Institute for Aesthetic Vaginal Surgery
31852 Coast Highway, Suite 203
Laguna Beach, CA 92651
---
Courses at the Alinsod Institute have functioned independently since 2005 and are not affiliated in any way with any outside organizations. Dr. Red Alinsod's courses are not affiliated in any way with Thermi, LLC, Cynosure/Ellman, Coloplast, or Cooper Surgical.