Meet Dr. Judy Wei
---
Judy Zhu P Wei, M.D., F.A.C.O.G.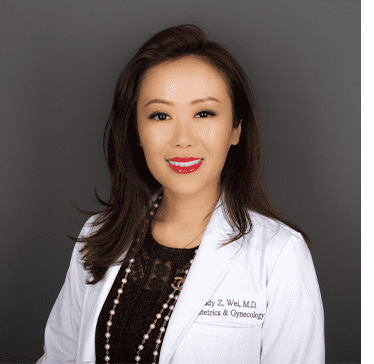 Dr. Judy Z. Wei is a board-certified obstetrician and gynecologist and the founder of Capri Medical Group in Irvine, California. Her practice is devoted to providing compassionate care to women of all ages, including comprehensive obstetric care, gynecologic services, and advanced minimally invasive surgical techniques.
Dr. Wei received her medical degree from the Keck Medical School of USC, where she was proud to graduate with honors. She went on to complete her residency in obstetrics and gynecology at the Los Angeles County–University of Southern California Medical Center. During her residency, she received the USC Medical Student Teaching Award, the Nurses' Choice Award for Excellence in Patient Care, and was awarded Special Resident in Minimally Invasive Gynecology.
Dr. Wei subsequently underwent a two-year fellowship in minimally invasive gynecologic surgery with a focus on endometriosis and pelvic pain syndrome. She was recruited to the Keck Medical Center as Assistant Professor of obstetrics and gynecology, then as the Education Director of Minimally Invasive Surgery, Dr. Wei helped develop the minimally invasive surgery residency curriculum and trained resident physicians and fellows in laparoscopic skills.
Dr. Wei is fluent in Mandarin and English, and also speaks conversational Spanish. She is greatly influenced by her father Dr. Jeng Wei, a world-renowned cardiovascular surgeon, who performed the first successful heart transplant in Southeast Asia and performed the world's first total artificial heart transplant.
As a mother of three beautiful children, Dr. Wei can personally relate to her patients. She is excited to provide comprehensive healthcare to her patients throughout the different transitions of their lives, from pregnancy through menopause, and all the ups and downs of life in between. She looks forward to being involved in some of the most significant life events of her patients.
Learn more about Dr. Judy Wei
---