Hymenoplasty
This surgery is the reconstruction of the hymen. Cultural, religious, or social reasons predominate when this surgery is contemplated. Hymenoplastyis performed to make the patient appear virginal. It works for women who have not had vaginal deliveries, and preferably, in those who have never been pregnant. We take advantage of the Ellman Surgitron to make extremely precise incisions into the vagina and remnants of the hymeneal ring to bring them into close approximation to allow delicate sutures to hold the tissues in place. Once healed, the act of sexual intercourse can result in bleeding when the hymen is torn or stretched. Hymenoplasty is done in the office under local anesthesia. This procedure takes 60 minutes to perform.
Patient History: This young lady, in her mid 20s, flew in from out-of-state and requested a hymenoplasty surgery prior to her wedding in the Middle East. She was foreign born but American raised and had an arranged wedding scheduled in two months. She feared for her life because of the cultural need to show bleeding on a special sheet on her wedding night. Her husband-to-be was also from the same country and was raised a Muslim. If no bleeding occurred during intercourse she feared that a young and underaged male family member would kill her to maintain the family honor. She trembled in fear as she requested this potentially life-saving procedure.
Procedure Performed: Hymenoplasty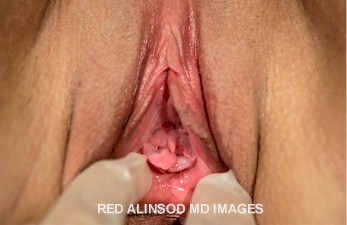 Before hymenoplasty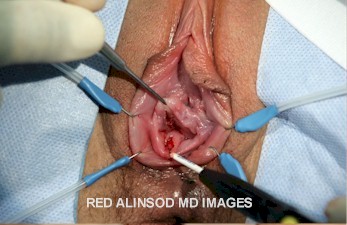 During hymenoplasty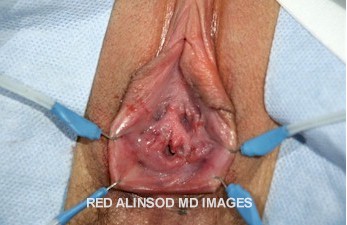 After hymenoplasty
Outcome: The patient had a successful trip to the Middle East and enjoyed her wedding. She had painful intercourse on her wedding night but was ecstatic that she bled and was able to prove her virginity to her new husband and family.
4 YEARS POST SURGERY
Durability of Hymenoplasty Repair 4 years after surgery with a natural non-surgical look and feel
| | |
| --- | --- |
| 4 Year Post Hymenoplasty Closed | 4 Year Post Hymenoplasty Closed |