Our book has been out a year now and hovers at the top of the list for aesthetic and cosmetic gynecology on Amazon. Congrats to my co-editors Christine Hamori and Paul Banwell.
http://www.thieme.com/resources/1155-special-discount-for-students-of-the-alinsod-institute
The Alinsod Institute offers you 20% off when purchasing Female Cosmetic Genital Surgery.
Enter code Alinsod20 at checkout when you buy Female Cosmetic Genital Surgery on Thieme.com and save!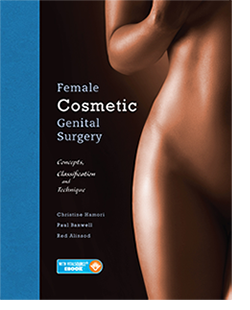 Female Cosmetic Genital Surgery:
Concepts, classification and techniques
Female genital rejuvenation is a hot topic, and the procedures are growing in popularity, thanks to more media awareness of this type of surgery. This comprehensive and highly visual text covers the important issues of patient selection and patient consultation as well as fully covering all the different operative techniques along with accompanying surgical video. There is a special focus on dealing with complications and how to deal with secondary cases.
Female Cosmetic Genital Surgery
2017 / 264 pp / 350 illus / hardcover / ISBN 9781626236493 / $249.99
SPECIAL DISCOUNTED PRICE: $199.99
Includes eBook