aesthetic vaginal surgery
We offer highly specialized surgery to restore and enhance the appearance of the vaginal area. These procedures, frequently referred to as "Vaginal Rejuvenation," "Aesthetic Vaginal Surgery," "Cosmetic Vaginal Surgery," or "vaginoplasty," resurfaces and tightens the tissues to reclaim the youthful appearance and function of the vulvar and vaginal area. In ordinary terms, the procedure is essentially a "face lift" for the vulva and vagina. Dr. Alinsod has developed and pioneered many innovative techniques in this newly evolving field of cosmetic surgery and is happy to offer these services to his patients.
Due to the effects of childbirth, aging, trauma, and/or genetics, the vaginal tissue and surrounding muscles can become stretched and lose their strength and tone. The loose and unsatisfying feeling that many women feel can also be felt by their male partner during intercourse. Labial enlargement, unevenness, or traumatic tears from childbirth can also affect the labia to make it look unappealing. This can result in discomfort with intimate contact, chronic rubbing, a pulling sensation, vulvar pain, and an inability to wear certain types of clothes such as tight jeans or swimsuits. Most women simply live with these symptoms but now help is available. Femininity can be restored.
These surgical procedures can increase friction during intercourse and can enhance intimacy. Furthermore, labial contouring, commonly referred to "labiaplasty," can be performed in the office in an outpatient setting. Many patients have flown in to Southern California and have received the highest of care, personalized service, and outstanding results.
Dr. Alinsod has the distinct advantage and experience as a reconstructive pelvic surgeon enabling him to tackle even the most difficult of cosmetic vaginal/vulvar cases. Unlike a plastic surgeon, who typically has no training in the art of reconstructive pelvic surgery, or a general gynecologist, who has little to no training in aesthetic vaginal/vulvar procedures, Dr. Alinsod is able to treat the whole woman in terms of her aesthetic, gynecologic, and urologic health by addressing any incontinence and pelvic prolapse that may be present at the time of the cosmetic procedure. This broad base of knowledge and experience combined with a sharp focus on aesthetics makes Dr. Alinsod the surgeon of choice. He welcomes your inquiries.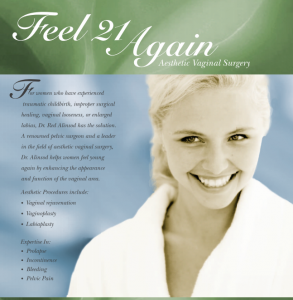 Please use our resources for Aesthetic Vaginal Surgery Surgery topics:
AVS Handouts (*.pdf)
AVS Resources