Red M. Alinsod, M.D., FACOG, FACS, ACGE
Urogynecology & Pelvic Reconstructive Surgery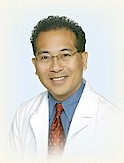 Dr. Red Alinsod was one of the very first surgeons in the United States to perform the innovative, safe, and efficacious "trans-obturator tape" incontinence sling and Posterior IVS vaginal suspension. He has also pioneered techniques in aesthetic vaginal surgeries that are both functional and cosmetic in nature.
Dr. Alinsod graduated from Loma Linda University School of Medicine in 1986 and completed his OB/GYN residency at Loma Linda University Medical Center in 1990. His focus in those early years was pelvic surgery. He was the first Rutledge Fellow at MD Anderson Cancer and Tumor Institute and was also selected as a Galloway Fellow at Memorial Sloan Kettering Medical Center.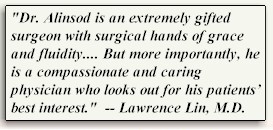 Red was accepted to Yale's Gynecologic Oncology fellowship but was unable to attend due to a military commitment with the US Air Force during this time of global strife. His career took a 180 degree turn as he headed the Gynecologic Services at George Air Force Base, CA, and Nellis Air Force Base, NV, as he concentrated on benign gynecology, urogynecology, and pelvic surgery. He was affectionately called a "Combat Gynecologist" by his colleagues. He was the first one to achieve the Accreditation Council of Gynecologic Endoscopy in Nevada. He left the Air Force as a Major in 1994 and joined Facey Medical Group in Southern California.

Red is very active in presenting talks locally and nationally and in teaching physicians the art and science of incontinence/pelvic reconstructive surgery. Red's focus on pelvic surgery to improve patient lives has led to innovations and inventions that will have a major impact on how pelvic reconstructive surgery is performed worldwide.

Dr. Alinsod's focus is on providing the highest quality of care to his patients in a compassionate and trustworthy manner. He is absolutely thrilled to be part of the South Coast family. He welcomes your correspondence and inquiries.





Copyright 2004 - 2011 . Urogyn.org All Rights Reserved. See Terms/Legal Disclaimer