MEDICAL AESTHETICIAN & REIKI MASTER
Medical Aestheticians work under a licensed healthcare provider. Working under the supervision of a Doctor a Medical Esthetician is able to treat your skin at the cellular level using medical grade technology & pharmaceutical grade products. Medical Estheticians may also provide pre and post operative skincare treatments. We specialize in treating all skin types and conditions to assist patients in achieving the best results and assist each client in building a custom skincare regimen that best suits their skin type.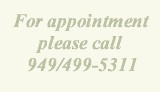 LAGUNA LASER CENTER SKIN REJUVENATION SERVICES:

We provide each of our patients with a detailed skin care evaluation and treatment plan customized to meet their individual needs. Services include:
SilkPeel Dermalinfusion Facial
Personalized Reiki Facial
Vi Peel
Papaya Enzyme Peel

- Pumpkin Peel
- Lactic Peel

Ayur- Medic Facial
Collagenizer Anti-aging
Mens Facial/ Teen Acne Treatments
Eyelash Extensions
ColoreScience Mineral Cosmetics


SilkPeel Dermalinfusion

The SilkPeel is a safe comfortable treatment suitable for all skin conditions. The procedure is essentially "two treatments in one" and perfect for someone who is on the go. Requiring about 30 minutes, no downtime and producing immediate results SilkPeel is the best treatment for today's active lifestyle. This will Hydrate, Brighten or Clarify your skin. This is our version of the micro-derm.
Personalized Reiki Facial

This luxurious treatment is best suited for the individual in need of healing and Deep relaxation. Begins with a gentle cleanse and skin analysis your skin is prepared for a steam and extraction process. We then apply a revitalizing mask with a soothing hand treatment and massage with reiki healing. This one-hour treatment is completed with the application of sun protection and a hydrating lip serum.

Vi Peel

With the Vi Peel, patients may achieve dramatic improvement in texture, tone and lessening of superficial lines. A healthier, more youthful look and feel is achieved with minimal downtime. This process has been clinically proven to help fade pigmentation (age spots), stimulate collagen and elastin production and prepare the skin to receive maximum results prior to such treatments as laser resurfacing. Two treatments are recommended.

Collagenizer Biolifting Treatment Series

This series consists of five non-invasive anti-aging treatments. Able to treat and improve areas of the face neck or hands (which are usually almost impossible to effect change in) other than with surgery or fillers. Very effective in improving lines around the eyes and lips. These treatments are cumulative.

Pumpkin Peel

The Pumpkin Peel is a powerful antioxidant treatment that brightens and rejuvenates the skin.

This treatment exfoliates and draws out impurities while introducing vitamins, enzymes and nutrients to the skin. Pumpkin treatments offer the highest concentration of vitamins A, C, and beta-carotene while providing a potent skin smoothing and pore cleansing action.

Papaya Enzyme

This effective exfoliant helps to purify and regenerate the skin. Green Papaya and Pectin resurface and soften the skin, greatly aiding in the ease of extractions. May be combined with silkpeel for best results.

Eyelash Extensions

Extensions are single synthetic lashes that are attached to each of your individual natural eyelashes one at a time. The add length, thickness and fullness that cannot be achieved with traditional makeup and can save precious time - no more mascara!

"ColoreScience" Mineral Cosmetics

This naturally anti-inflammatory makeup is uniquely formulated to protect and correct. Use for post laser cover or everyday skin protection. The foundation primers act as non-surgical dermal fillers, mattify pores, camouflage lines and brighten or bronze the appearance of the skin tone. Loose mineral and pressed foundations give all day weightless color correction and include SPF UVA/UVB protection. Perfect for sensitive, troubled or post laser skin.

Reiki Treatments

This treatment is customized per patient needs. It is a Japanese stress reduction technique that also promotes healing. It is a simple and effective form of hands on healing that helps with many issues, such as insomnia, chronic pain, headaches and anxiety. Most report feeling a deep sense of peace and joy when leaving a treatment. Provides deep relaxation.

Waxing

We use sensitive skin wax with chamomile and azulene. All areas: underarm, lip, eyebrow, bikini, and,Brazilian are available services.

In addition to offering the above services we also carry D-More Organic Collagen, Vitamin C White Cream, Neocutis, Ayur- Medic, Obagi Medical Skincare, Ess Essential Oil

For appointment please call 949/499-5311.